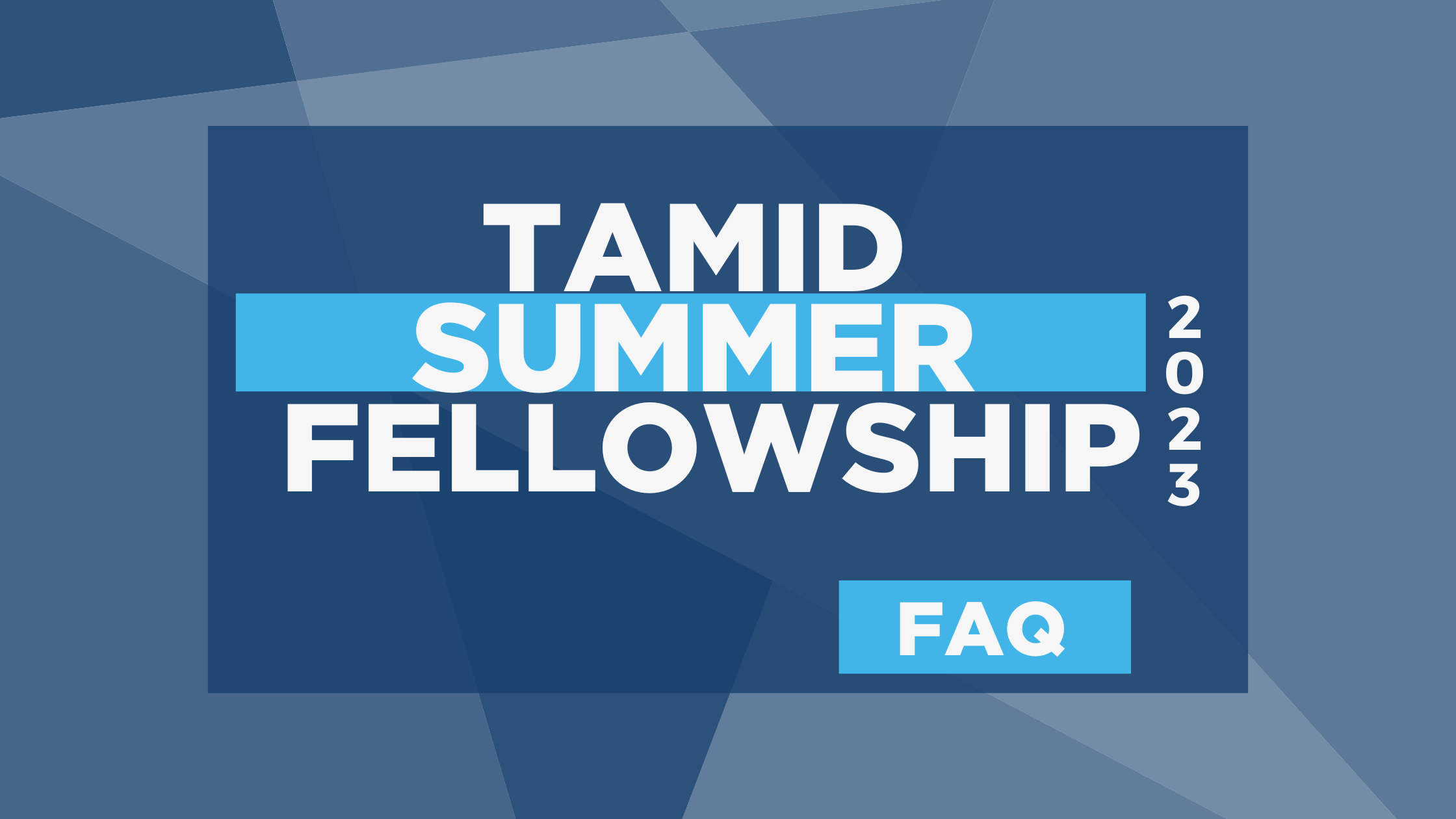 TAMID Fellowship 2022: Company FAQ
What are the expectations of host company managers for the TAMID Fellowship?
Projects and Tasks- the intern should have significant and structured tasks and assignments that are appropriate for his/her time frame in the company and that match what was discussed in the interview.
Management – the intern should be assigned a staff person who will be the point person at the internship and who has availability to manage and mentor the intern.
Weekly Check-In – the intern should have a weekly meeting with the manager or project supervisor to go over the assignments and ask questions.
Workspace – the intern should have a designated workspace that is agreed upon.
Lunch – the host company is expected to provide lunch or cover lunch costs every workday with an absolute minimum budget of 35NIS/day. If the internship is remote, there will be no fee for intern lunches.
Fee – There is a mandatory fee of $300-$500 per intern depending on the company status. (Nonprofits are exempt)
What are the dates of the program?
Session 1: June 11 (first day in the office) – Aug 1 (last day in the office)
Session 2: June 18 (first day in the office) – Aug 8 (last day in the office)
What are the expected hours?
For an in-person internship, TAMID interns are expected to work Sunday – Thursday, for 8 hours per day. Please note that a program calendar will be sent to you, noting trips or events that may interfere with the regular work schedule.
What type of tasks can I expect from interns on the TAMID Fellowship?
TAMID Fellows choose to join the TAMID Fellowship over high-paying internships with prestigious consulting, tech, and financial firms. Thus, they expect to have a high-level experience of "learning by doing." They do understand that the dynamic nature of a startup company can lead to a wide variety of tasks—some more challenging than others. But the interns expect to finish the summer with tangible accomplishments and learning experiences; days spent making copies or sorting mail are not acceptable.
Internship experiences are most valuable for companies and students when the intern has one or two large projects to work on over the course of a summer. Each intern comes with their own set of skills, but in general, they may be interested in marketing, product management, financial analysis, planning & strategy, business development, operation, engineering & design, etc.
What does TAMID provide for the interns?
TAMID provides interns with housing in Tel Aviv, international flights, insurance, breakfast and dinner, monthly Rav Kavs, programming, trips, and a small stipend to cover additional expenses. TAMID provides interns with professional development through workshops and events, mentorship opportunities, and one-on-one meetings with TAMID staff throughout the summer.
Where will the interns be living?
All 2023 interns will be based in Tel Aviv. Some may choose to commute to their internship placements. The furthest commute is generally Haifa or Jerusalem, though not all interns are open to companies outside of Tel Aviv.
What was the application process like for TAMID interns?
The TAMID Fellowship application is a thorough, highly competitive process that is open to student leaders on over 60 different international college campuses with active TAMID chapters. Applicants compete with their elite peers and complete an application that includes short answer questions, essays, a one-minute video, a CV, and a transcript. Each applicant is interviewed following their application. A team of student leaders and TAMID professional staff review each application.
How are TAMID Fellows matched with host companies?
Host companies submit interest through the matching app which includes the needs and qualifications they want from an intern. Fellows fill out the student side of the matching app with complementary questions, which highlights their interest, skills, and experience. With a combination of a matching algorithm, and the TAMID team of professional's review, TAMID comes up with appropriate matches. The company and candidate are then given 10 days to interview and decide whether it is a good fit for both sides.
What is important to ask during the interview?
Setting expectations from the beginning is key to a successful internship experience. Questions that help you understand what the intern is looking for are often best for determining fit. If the intern is looking for an experience in data analysis and you are offering a content writing opportunity, it will most likely not be a great fit. You can also feel free to give the intern a task or project to complete within the 10 days, to get an accurate picture of their skills.
Can I still have Fellows sign an NDA?
What opportunities are there to connect with other TAMID host companies?
You are welcome to join and participate in our many ecosystem events that highlight various companies. Feel free to check the calendar or reach out for details on our specific events. Additionally, reach out to companies@tamidgroup.org to join our online community TAMID Hub.