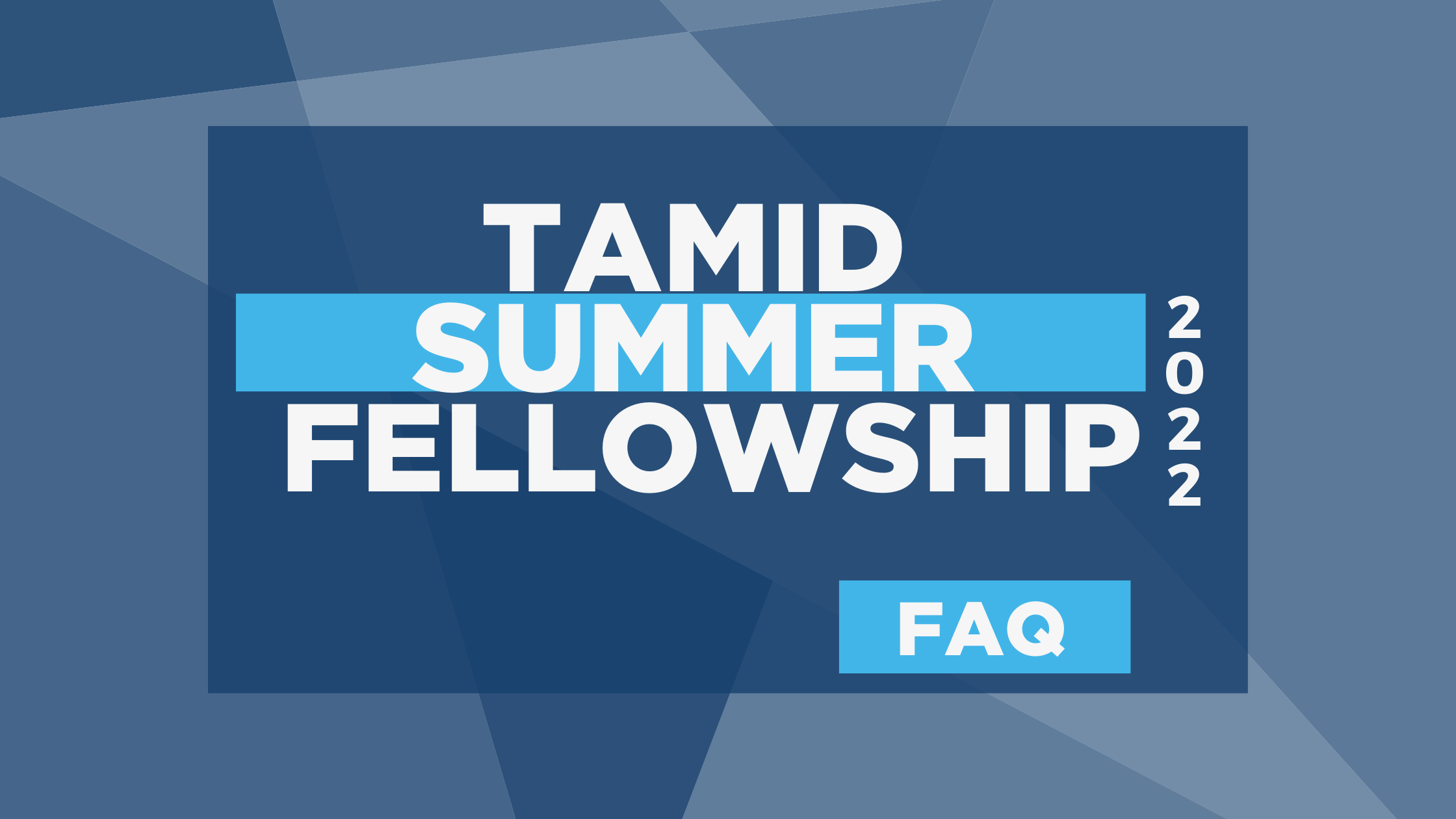 TAMID Summer Fellowship 2022: Student FAQ
What does the Program Fee cover?
The $1500 Program Fee goes directly towards subsidizing the Fellowship, including: your food, travel, and living expenses for the summer. Some of this fee also comes back directly to you throughout the summer as a modest living stipend.
Is there Financial Aid available?
Please be in touch with the Fellowship Team if you are interested in hearing more about financial aid for the Fellowship. There is financial aid available and TAMID does not want the Program Fee to prevent anyone attending the Fellowship. We will also be sending out more information regarding financial aid along with your program acceptance.
What is my Security Deposit?
Your Security Deposit is a $250 fee that you pay at the beginning of the summer. It will be used to cover any damages or fines you may accrue. Money can also be deducted from your security deposit if you are late or miss out on any mandatory events. At the end of the summer, you will have the choice to claim the remaining money or donate it to TAMID to be used toward next year's Fellowship.
What are the Fellowship dates?
Session 1: June 7 – Aug 4
Session 2: June 14 – Aug 11
If you have an academic conflict, please contact the Fellowship team directly (summerfellowship@tamidgroup.org). 
Can I arrive late or leave the Fellowship early?
While we discourage missing any days of the Fellowship, we will send out a Conflict Form before the Fellowship starts. On this form you will be able to note any conflicts you may have over the summer.
* Please note, you may not miss days on the Fellowship without prior approval.
Are all TAMID programs and events mandatory?
You will receive a calendar of events and trips prior to the summer. The calendar will clearly denote which programs are mandatory, and which are optional.
Will we be able to travel around Israel?
Yes, TAMID organizes several weekend trips over the course of the program. In addition, TAMID also encourages you to explore Israel on your own. In addition to the trips and programming that TAMID will run over the summer, Onward Israel runs 'shishi tours', optional (Friday) day tours around Israel that you can join. Onward Israel also has a 'student activity fund' that you can apply for and use to plan your own exploration of Israel as a group. 
TAMID will send out an itinerary before you arrive here to Israel with any weekend trips, so you will have plenty of time to plan your off weekends in advance. 
Are there professional development opportunities available?
Yes. There will be sessions that are run for Fellows interested in various industries. More information on this will be sent leading up to the summer.
Can I travel outside of Israel during a free weekend?
The rules of the Fellowship Program prohibit Fellows from leaving the country over the summer, without express permission.
What are the security protocols?
Our service provider has a full-time security department linked to the Israeli Army, the Israel Police, and all the relevant authorities, feeding real-time live updates to the group. Our group's every step in Israel is monitored and impromptu adjustments are made if needed.
How do subsidized flights work?
Fellows will book tickets up to $1500 through our travel agency. Our travel agency will search for the "lowest available, non-refundable, Economy Class, round-trip fare, based on your official travel date."
Should you wish to extend your ticket before or after the program, you will need to speak directly with the travel agency.
* Please note that our travel agency works independently from TAMID, all communication or any flight issues are handled by the travel agency.
** Any tourist visas or visa extensions, are done by the Fellow independently. If you are unsure whether you require a visa, please reach out to the Fellowship team.
Will there be transportation from the airport?
Each student is expected to arrive from the airport to their orientation/registration on their own. Please contact the Fellowship staff if you have any questions regarding your arrival.
Do I need an Israeli cell phone plan?
According to the program rules, each Fellow must have a local Israeli phone number over the summer. In the information packet we will have details of an option to book a SIM package through a company that we work with.
Note: Phones MUST be unlocked before arrival!
How much spending money should I bring?
You will receive a modest living stipend at the beginning and middle of the program, these funds are intended towards expenses such as toilet paper, cleaning supplies, and light groceries and other daily expenses. However, we do recommend that you bring with you a few hundred dollars of cash and/or an international credit card that can be used for any extra expenses. (Please keep in mind that certain credit cards, such as American Express, are not always accepted in Israel.)
How will I get around in Israel?
You will be provided with an unlimited monthly bus pass that will enable you to take public transportation within Tel Aviv, and to your workplace. Any transportation that you take on your own time outside of these city limits will be at your own expense.
Who is our first point of contact in Israel?
Each cohort will be assigned Community Managers, who are on call 24/7. In addition to medical, social, and technical support, they will also facilitate events for cohort bonding.
What does Fellowship housing look like?
During the 2022 Fellowship, Fellows will be living either in apartment style (shared bedrooms), hostel style, or dorm style housing during the Fellowship. Housing will have shared living spaces as well as space to cook meals. We will send out a list of where you will be living before the Fellowship starts.
What is included in the living spaces?
Each Fellow will receive the following items: bed, sheets, towel, dresser / closet. Air conditioning and wifi is available as well. A packing list will be sent out in our info pack before the Fellowship..
Can we choose our cohort?
You will be sent a Housing Form, on which you can request a Fellow to be placed in your cohort. However, we do not guarantee that you will be placed with the Fellow you request.
Do TAMID chapter members live together?
TAMID chapter members are purposely divided to ensure cohort diversity and to give you the chance to meet as many TAMID Fellows from other chapters as possible. You may find yourself in the same cohort as another chapter member, but this is not guaranteed.
When will housing and cohort lists be available?
The Fellowship team will release the housing and cohort lists in the weeks before the program. 
How do meals work on the program?
Lunch will be provided by your host company on working days. In addition to this, you will receive a modest stipend in two installments throughout the summer to help subsidize your other living/food expenses. While you are on a TAMID trip, we will cover all meals. 
What should I do if I have dietary restrictions?
In order for us to best accommodate your restrictions, please include your allergies and dietary restrictions on your medical form and again on your registration form.
* Please note, all food on TAMID events and trips is Kosher.
Can I move into my housing before the program officially begins?
No. TAMID housing accommodations are only available during the exact dates of the Summer Fellowship Program.
When does internship matching begin?
Early Action Fellows will begin matching in November, and General Admission Fellows will begin in December.
The process will run until all Fellows are successfully confirmed.
How exactly does the matching process work?
Companies and Fellows are asked to fill out forms detailing interests and needs. We use an algorithm that analyzes the data and shows potential matches. Using this information and our years of ecosystem experience, our team makes tailored intros or recommendations.
What's the professional dress code in Israel?
The dress code in Israel is generally more casual than in other countries. We recommend asking your company manager about the typical workplace attire is in their office.
I don't speak Hebrew. Will that be a problem?
Absolutely not. Each placement has English speaking employees, and your direct manager will be fluent in English. Additionally, online Hebrew lessons will be offered leading up to the program for interested Fellows!
What if I have an issue during my internship?
Our Fellowship/Company Relations Team are available to help you with any issues associated with your internship. You will be able to schedule a meeting to speak with a staff member and talk through challenges that may come up.
Am I allowed to intern with a company that isn't in TAMID's network?
If there is a specific company that you are interested in, please let us know as we may already have a relationship with them. If we do not, we ask that you keep us updated and CC'd on your communication with the company. Please keep in mind that all new companies must first be approved by TAMID staff before you can start the process.
How will my company cover my lunch?
The most common methods include: an on-site cafe/cafeteria, a prepaid card or cash (daily/weekly/monthly) provided by your company, or the students buy their own lunch, and are reimbursed by their company.
What are some typical internship placements?
TAMID Group works primarily with companies in the startup / hi-tech ecosystem. The majority of our placements are in fields such as med-tech, AI, big data, blockchain, etc. We also have limited, competitive placements in Venture Capital and consulting firms.
What are examples of internship projects?
Past Fellows have worked on projects like business development, financial analysis, marketing, deal flow, research, consulting, social media management, content writing, software development, data analytics, and more. There are also niche placements available.
Will we have the opportunity to meet companies outside of our internship?
Absolutely! TAMID Group organizes industry events and pitch nights for Fellows. In addition, there are many ecosystem meetups and events that are open to TAMID Fellows.