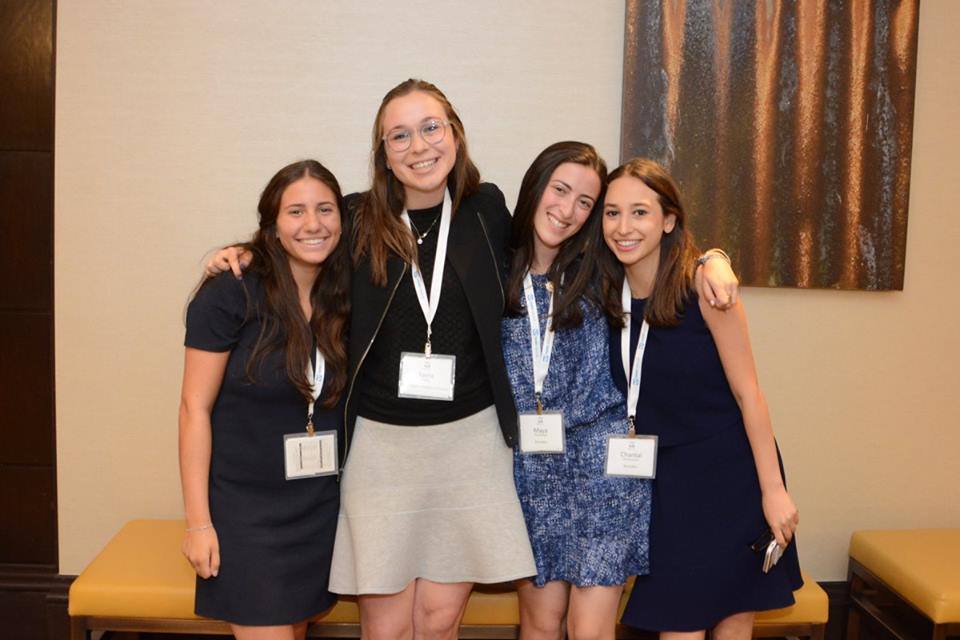 The Busy Ballroom: Lessons Learned at TAMIDcon
By: Yaela Halper, TAMID at Brandeis
As I stepped into the expanse of the busy ballroom, I was enveloped by the chatter of 200 eager student leaders who were ready to be transformed into the business leaders of tomorrow.
TAMIDcon, the annual TAMID Group national conference, provides an invaluable learning opportunity for students to grow in a collaborative environment. The goal? Making their campus TAMID chapters function at the highest level they can possibly be at.
The rapidity of TAMID's growth was clear throughout my first year participating in the Brandeis University chapter. The beauty of this impressively explosive expansion is that students truly shape its direction. Thus, I wanted to become part of that larger vision.
After the rigorous process of applying and being accepted as Regional Director for New England campuses, I realized that one of the first ways I could greatly contribute to the vision of student led peer education was to become involved in planning this year's edition of TAMIDcon, the largest TAMID conference to date.
Suddenly, I found myself working on everything from the big picture vision down to the smallest details. One minute I would be focusing on the little things: creating name tags and agendas; ordering custom TAMID leather padfolios, laptop stickers, phone wallets, name tags, and lanyards; and creating TAMID themed blue and grey center-pieces for each table. Yet, the next minute I would be providing my feedback on the agenda and other big picture aspects of the conference, showing how unique TAMID is as an organization. As a sophomore in college, not a trained and paid non-profit or educational expert, I was able to work with the TAMID team to create a student driven vision for TAMID's direction, making decisions that affected hundreds of students on dozens of college campuses across our nation.
Once all the planning was done, we could finally see the fruits of our labor. As my fellow TAMID students began their sessions, I too took part in learning from my peers. Unsurprisingly, I learned a large amount:
Make sure to dot your I's and cross your T's.

Details are what make events looked polished and complete. "Loose ends" create a perception that a conference was just thrown together in very little time. From my involvement with various other student organizations and clubs at Brandeis, I knew how important every aspect of an event was, but not on a bigger scale such as TAMIDcon. Reflecting on the success of the conference, it is evident that the success was all in perfecting the details.
All hands on deck.

No matter what your title is or your role in a national organization like TAMID, it's absolutely necessary to have all hands on deck. For example Nathan Gilson, TAMID's Assistant Executive Director, helped with what higher-ups in other organizations may have considered menial and beneath them. Having everyone involved in planning a wide range of aspects in a conference is a key to success.
Engagement matters.

College students are constantly peppered with information from countless sources. Students quickly adapt to this during their college careers, filtering out rhetoric with ease. With that in mind, one of our goals was to not talk

to

the attendees, but rather talk

with

them. Hence, rather than being lectured to, TAMIDcon focused on exposing members to valuable information in interactive breakout sessions which were led by their peers. This unorthodox yet progressive approach maximized the success of the conference.

I am incredibly grateful to the TAMID staff for allowing me to provide my input, and I am eager to continue this in my role guiding New England chapters of TAMID. Reflecting on the contributions I made to TAMIDcon and the overall outcome of the conference, I am confident that students will return to their respective campuses with a reinvigorated passion for the TAMID Group and its vision of promoting experiential learning through business in Israel.