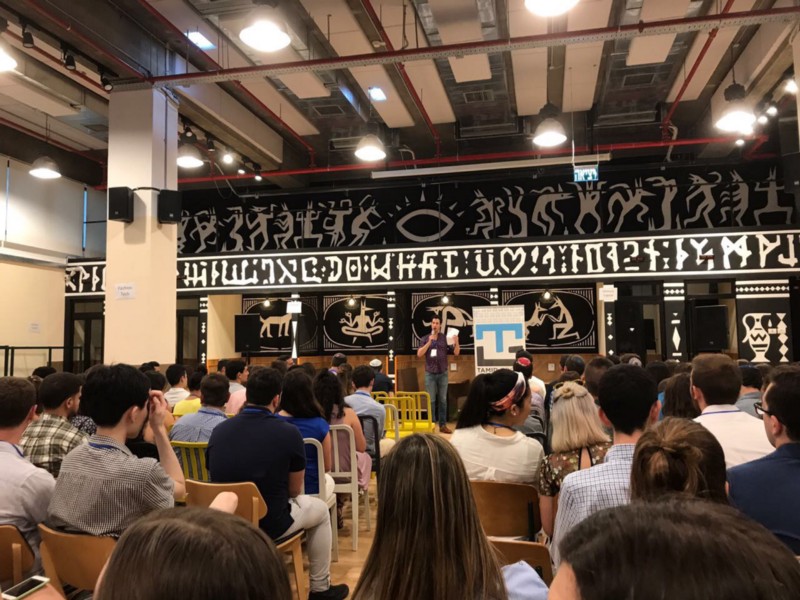 Fellowship ISRAELI Starting off Well!
By: Leah Sidell, University of Wisconsin-Madison
The biggest competition of the fellowship began at our kickoff event Wednesday at WeWork HaZerem. Whoever could connect with and collect the most business cards from our guest speakers would win the opportunity to go to dinner with THE David Micley! The challenge began after fellows had the chance to network with one another, fellowship employers and, of course, eat hummus and pita. This event was the first time that both sessions were together in the same room and boy, do we have a great bunch! The kickoff event set the tone for the rest of the fellowship by encouraging innovative thinking, networking and fun.
AND we are excited to announce that the fellow who collected the most business cards is Brandon Berookhim! When asked about where he is planning to eat with David, Brandon said, "I am on the hunt for the most expensive restaurant in Tel Aviv so, if you have any suggestions then please hit me up." Congrats Brandon!
Brandon Berookhim — winner of David Micley's business card challenge
The kickoff event got the ball rolling for all the exciting things we have coming up this summer. This week we had our first "Mandatory Monday" event. I'm not sure about everyone else, but I know that Cohort FUN (aka Cohort 1) had a blast "hanging out" and doing Acro-Yoga.
This upcoming weekend will pack our bags yet again and head to Jerusalem! In such a short trip we have a lot to pack in — Old City tour, Mount Herzl tour, Machaneh Yehuda Market AND a Jerusalem Startup Ecosystem Showcase event. Fellows also have the opportunity to extend their trip and stay in Jerusalem for Shabbat. I know I'll be there!
I am so excited for Jerusalem but I don't know if I could choose what I am looking forward to most this WHOLE summer but I have begun crossing items off my bucket list!
· Take a picture in the "I Love Tel Aviv" chairs at the beach
· Go to Tamara Yogurt (I'll admit, I am guilty of going more than once)
· Run along the port
· Visit Serona Market
· Rent a Tel-o-fun bike
Next up: Stand-up Paddle boarding!
Got any more recommendations? Send us your fun summer ideas at tamidsession1@gmail.com and stay tuned for the rest of our summer adventures!!