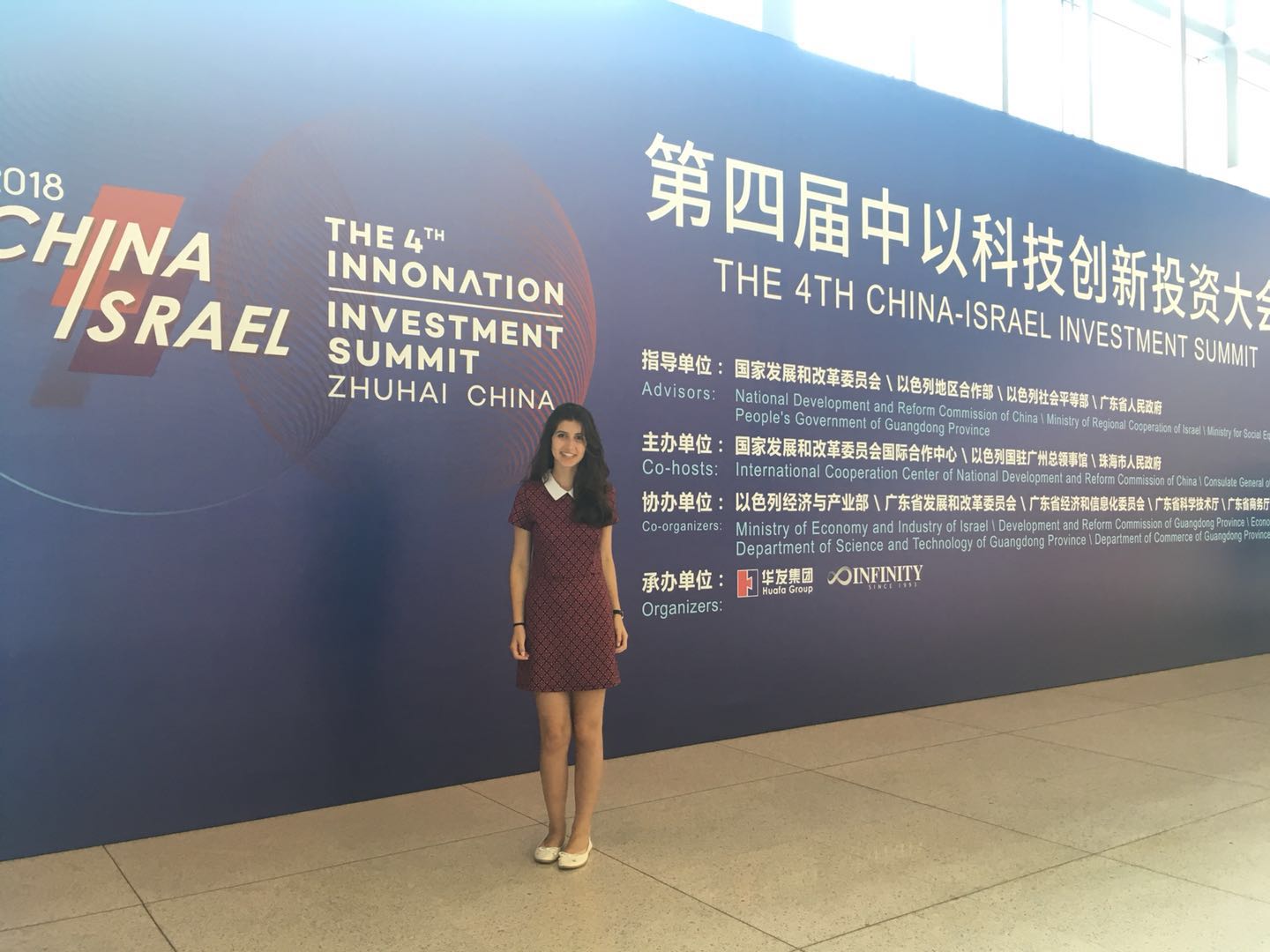 Internship Spotlight: Sarah Torgueman
By: Sarah Torgueman, Yeshiva University
"Were you just in China??" That was the first greeting I got when I saw my fellow TAMID interns on the Tel Aviv beach last weekend. Yes, rumors were true. I'd just gotten off the flight from China after spending a week there with the company I'm interning for this summer.
Despite it being true, I was still in shock that something so crazy as this would happen to me. I could tell you one thing: I certainly did not expect my summer to go down the path that it has.
I'm working for Infinity Equity—leading Israeli Chinese venture capital firm. With over 1.5 billion USD under its management, Infinity invests in seed to C stage companies across the Israeli technology sector including semiconductor, medical, agricultural, and auto technology, and specializes in cross-border partnerships between those Israeli startups and Chinese investors. The company has headquarters in Tel Aviv and Beijing, and I work in the Tel Aviv office located in the Azrieli Towers.
I began at an incredibly hectic time at the office, and with anticipation and excitement, naturally jumped right in. The firm was in the midst of organizing an investment summit that it would be hosting in the coming weeks. Until then, I got to know my team really well, while truly digging deep and learning so much about the VC firm and the companies it invests in.
I like to call it "built-in training" because in preparation for the summit, I was in constant communication with the Israeli startups scheduled to attend the summit, including those in which Infinity invests and those with the potential for investment and expansion to the Chinese market. I learned a lot about each company as I worked on writing a conference book with company profiles of each and worked closely with the startups on their PowerPoint presentations they'd each be presenting in front of Chinese investors at the summit.

Our goal was to promote innovation and technology throughout the event while facilitating investment. With the summit around the corner, I initiated a project that would promote just what we were looking for. I called it The Virtual B2B Interface and I ran with it.
The next day, I found out the most unbelievable news. I was given the opportunity to lead the project on my company's investment summit—IN CHINA!
The Virtual B2B Interface would allow Israeli tech startups that couldn't make it to our investment summit in China to still meet with our Chinese investors—virtually. The platform would bridge the physical and continental gap between China and Israel beyond the walls of the summit and would be promoting innovation—a core value Infinity Equity thrives on.
I spent the next few days sourcing qualified startups, configuring logistics—basically how it would work and what it would look like, working with the Chinese team to pool investors, and building the virtual platform. I had to make this happen for my company; for something much greater than myself.
I landed in Hong Kong on Sunday night, where we took a ferry to Zhuhai, a city in China's southern Guangdong province known for its recent economic developments, and also where we were hosting the conference.
After a night of testing out the platform, going through rehearsals, and checking out the conference center, we were ready for what the next few days would bring.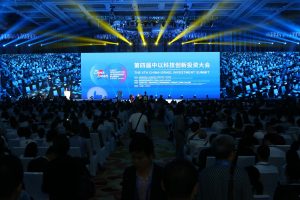 Infinity Equity's 4th China Israel Investment Summit held about 250 Israeli tech companies and over 7,000 Chinese investors, strategic players, and customers. In addition to speaking about topics in the business arena, Chinese and Israeli government officials, ministers, ambassadors, and professors spoke about the importance of maintaining strong business relations between China and Israel. Israeli tech companies met with Chinese investors around the clock and each company pitched on stage to a packed room of potential Chinese investors, while panels and lectures were given by China-Israel business experts.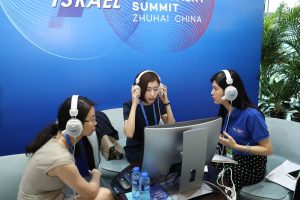 A few days later, we took a flight up north to Beijing, where the events continued at Infinity Equity's Beijing office. We had a launch party for the official opening of Infinity's Powerhouse in China. My company has been constructing Powerhouses, specifically in Tel Aviv and Beijing, which are separate co-working spaces tailored as a home away from home and a meeting point where both sides of Infinity's portfolio companies, investors, and Israeli Chinese business partners can work together.
Before my flight back home (yes, Israel!), I got the chance to explore the city. My coworkers and I took a trip to the Forbidden City in the center of Beijing where we saw the Emperor's Palace, former home of the Chinese emperors from the Ming dynasty to the end of the Qing dynasty, and Tiananmen Square, where the 1989 student protest took place and where Mao Zedong's poster hangs.
I had the most incredible week in China and I am extremely grateful to have had this opportunity. In addition to experiencing a culture that is extremely new to me, I learned first-hand about business in China by participating in investor meetings and listening to Israeli-Chinese business experts give lectures. For example, hearing about developments of blockchain in China from Peking University's top professors taught me about the potential future of its economy and the government's role in it.
After corresponding with the firm's network of startups attending the summit over the weeks prior, I had the opportunity to officially meet the Israeli startup CEOs, CTOs, and CFOs in person and hear their brilliant business plans on and off stage.
Leading the Virtual B2B Interface on the summit taught me the most. Being the only one from the Israel team on this project was definitely a game changer for me because I'd never worked with Chinese people before. From start to finish and from Tel Aviv to China, I led a group of Chinese people, translators included, who worked closely with me to execute this project. I learned to work with people completely different from myself by corresponding with the Israelis back home, meeting with the Chinese investors on site, and setting it all up with my team consisting entirely of Chinese people. Working closely with the Israelis and the Chinese has shown me the differences between their work cultures and how they vary from mine. Given that the project was super last minute, I refined my time management skills as well as professional business tact. I am honored to have led this project and feel accomplished to have seen it come to fruition all the way from China.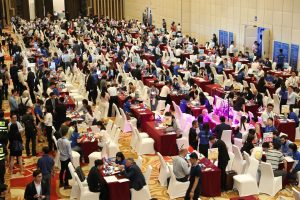 I am extremely grateful to TAMID and to my company for making this happen. Having a role in something much greater than myself and seeing the many pieces come together has been incredibly worthwhile.
I'd like to let you in on a little secret: this was my first time out of the United States alone, making this even more of an experience I'll never forget.