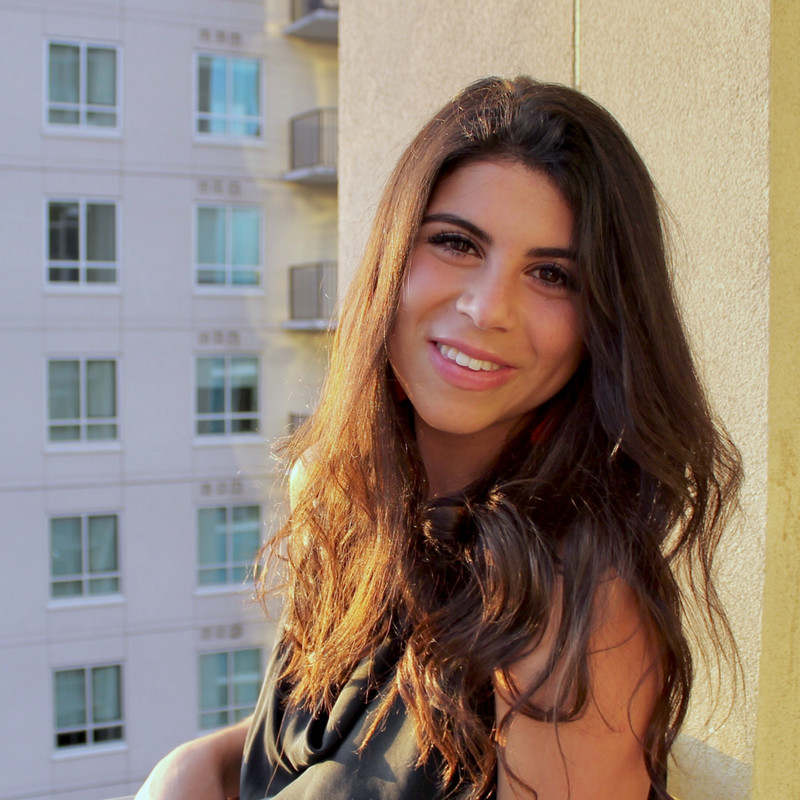 "TAMID Fellows Will Be a Part of Solving Some of the Greater Challenges Facing Our World Today"
Brit Stein, TAMID at USC class of 2019, was recently in Israel as a TAMID Fellowship Mentor and will soon begin work as a Valuation Analyst at FTI Consulting.  The following is from a speech she delivered to the 2019 Fellows in Tel Aviv.
My name is Brit Stein and I am a TAMID Fellowship Mentor for Cohort 2. I am a recent graduate of the University of Southern California's Marshall School of Business. Four years of college–it was a blink of an eye. My four years were filled with memories. From Saturday morning tailgates to movies in the quad, all nighters before a 10-page research paper was due and wine Wednesdays; I am both lucky and thankful.
No matter how many times people tell you to soak it all in, that one day you will graduate and walk across a stage with your diploma, you never do believe them. I didn't change in college, but I was able to grow into myself; into the person I am today. Yet there is a lot of change throughout college. And of all the roommates I have had, the classes I have taken, friendships and memories along the way, the one item that has remained consistent throughout my four years is my membership to an incredible organization – TAMID. 
I went to the USC student involvement fair about an hour after move-in and signed up for an interview with TAMID. For me, being an Israeli and also a business major, the decision to join TAMID made sense. But at the time, I didn't quite grasp or understand the magnitude of this decision and how TAMID would affect both my campus experience and my professional development. 
My interview asked me to compare SquareCash and Venmo and decide which was the better payment application. At the time, I had never seen either app before. In my mind, I was a naive girl from Minnesota – I had never ridden in an Uber before and Elon Musk was just another name. While the interview was challenging, even from the very beginning TAMID forced me to think both critically and creatively about the ways in which companies rise to success. TAMID pushed and encouraged me to study, analyze, and ask how start up ideas scale to become global, multi-billion dollar companies, like Venmo is today.  Through New Member Education, various consulting projects and our investment team, my eyes were opened to the demands of a globalizing world and Israel's involvement in that process. 
TAMID also provided both a foundation and a community within such a large university that grew to be my home. Thus, I decided to go on the Fellowship during the summer of 2016 and intern at PwC, a global company with heavy investment and interest all around the world, including Israel. I soon realized that the Fellowship offers more than just eight weeks of a 9-to-5. The Fellowship is trying to figure out the bus system, learning about Israeli culture, adapting to a new environment, and meeting students from top universities across the United States.
It is important to acknowledge the Fellows who are here in Israel. The students on this program are the next set of business leaders, entrepreneurs, CEOs, and professionals who will change the landscape of our world to a more tech driven and sustainable society. TAMID Fellows will be a part of solving some of the greater challenges facing our world today, whether that be world hunger, environmental sustainability, or even peace in the Middle East. 
TAMID members may find that five years down the line their new business partner was a Fellow from TAMID. Their new boss or interviewer may have participated on the Fellowship just two or three years prior. Several times, this happened to me. I relied on my TAMID network to grow and develop professionally, to explore opportunities in various industries and cities. Of course, I relied on my university's alumni community, but often, I preferred to seek out the connection and advice from other graduates within the TAMID Pro, or TAMID alumni, network. 
There is no other college organization like TAMID, spanning so many types of students and schools, all united under the same values. While no TAMID chapter is the same, the organization allows each student, regardless of campus or personal background, to approach business challenges with an open mind and a sense of optimism. TAMID allows students to take learned concepts and apply them in both the classroom setting and to real world business challenges. 
Throughout the summer, I encourage each TAMID fellow to try new things. Learn. Grow. Ask for responsibilities. Take risks. Whether it be in the internships or on free weekends together, it is critical to spend time figuring out what values of Israeli culture, the work environment, and the summer experience as a whole will be taken back and implemented into each individual TAMID chapter. Whether you realize it or not, when TAMID Fellows go back to campus, they draw upon their experiences here. 
Speaking from experience, I can tell you that the Fellowship provided me with not only the foundation, but the confidence to pursue professional experiences I previously believed were out of my reach. This program has more beneath the surface and long term than one can imagine.