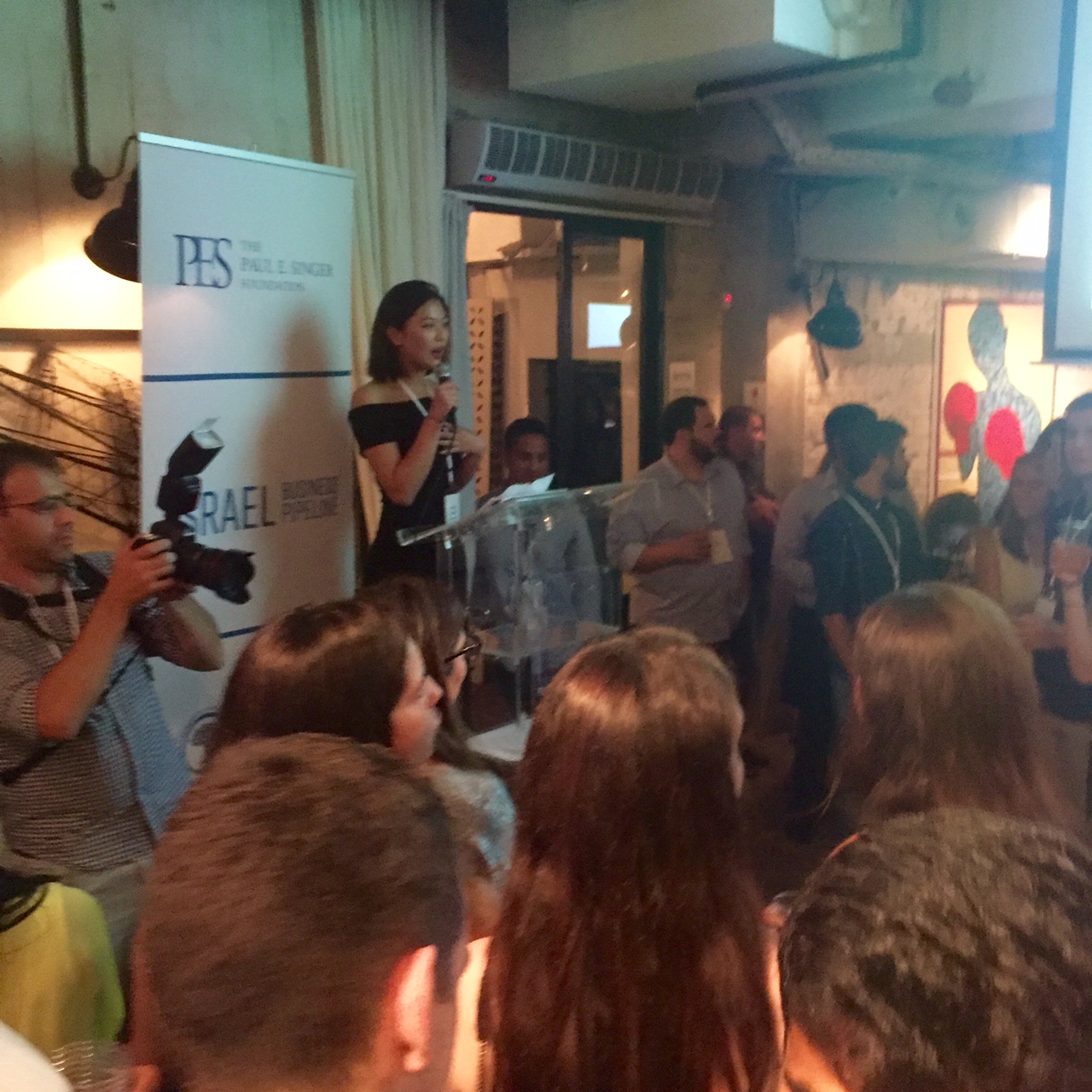 White Night
By: Alexandra Bergman, University of Maryland

This past Thursday, TAMID fellows hit the 3-week mark on their internships- we're officially in the swing of things. Becoming more familiar with coworkers, understanding the very unique Israeli business culture, and even mastering the public bus system all benchmark our time here.

So, what a better way to celebrate our three weeks of hard work than with Laila Lavan, or "White Night". Lila Lavan is one of the biggest events of the year in Tel Aviv. Shop owners and restaurants that would usually close around 10pm are open well into the next morning. The streets are filled with people young and old, all coming together to have a night of fun.

Our go-to plan for Tel Aviv's biggest night was the Israeli Business Pipeline Event. This celebration was an opportunity to express our gratitude for the summer. The event was sponsored by the Paul E. Singer Foundation and the Charles and Lynn Schusterman Foundation. These foundations are TAMID's longest supporting donors, and they deserve so many thanks for everything they have done for this year's Fellowship. They have been partners of TAMID since the Fellowship was a 15-student program.

TAMID fellows started to arrive at the event after work (all looking pretty wiped from a long week of work). TAMID was joined by other programs that are sponsored by these two foundations, including Birthright Excel, Israel Tech, ISBA, and many other Onward Israel programs. With this said, TAMID fellows were over half of the attendees, and it was incredible to see what a presence that our specific program has in this community.

The night was full of delicious food and drinks, and even a DJ and dancing. We got the chance to hear from students from several of the programs represented at the event, all of who explained what this summer opportunity has meant to them. Talking with students from other programs, listening to their experiences thus far this summer, and, of course, the homemade ice cream sandwiches were all personal highlights of the night.

As the event came to a close, TAMID fellows, with both new and old friends from the other programs in attendance, joined the Tel Aviv community to celebrate Lila Lavan. Streets were filled with crowds of people all coming together to enjoy the night. There was silent disco, live music on the streets, art fairs, and so much more. For such a large and international city, seeing such unity and togetherness was an unforgettable experience.

On behalf of all 221 TAMID Fellows, endless thanks and gratitude go out to the Paul E. Singer Foundation and the Charles and Lynn Schusterman Foundation for their generosity sponsoring this event, and for being the huge supporters of TAMID that they are.